Defy the Lake in the Winter
CRYO Races are a truly unique event in which we offer runners and ultra trail runners the chance to cross Lac Saint-Jean in the dim light of winter. Illuminated by their headlamps, the participants will find themselves in the middle of a sea of ice as they face the physical and psychological challenges of this crossing.
Each participant has committed to raising funds for the On the Tip of the Toes Foundation, which helps young people with cancer regain their well-being. In all, 200 people will have the chance to accept this big challenge in 2020!
Three events are on the program: the youth race, the 10km and the classic 32km crossing of the lake. When you complete your registration, you will have to pay the participation fee to start your fundraising campaign. Our team will be at your disposal until February 21st to help you reach your goal!
REGISTRATION FEES
32km: $ 100 upon registration and $ 1000 in donations
10km: $ 75 at registration and $ 500 in donations
* Receipts for tax purposes may be issued according to the conditions of the foundation. Only participants who have completed their fundraising campaign will be able to start.
32 km

The 32 km adventure begins just before sundown in Vauvert, on the outskirts of Dolbeau-Mistassini. Participants then run the distance on a groomed and well-marked track with several refueling points along the way. Under a starry sky, with only the sound of their footsteps in the snow, participants will live an experience like no other!
This event is for experienced runners who are used to traveling long distances and who will be able to reach the various stations within the cutoff times. You will have to show us during registration that you have the necessary experience to defy the lake!
Date: 02.22.2020
Shuttle to Vauvert: 2pm
Start time: 4pm
Cutoff time: 5h00 *
* The cutoff times are subject to change depending on the conditions on the day of the event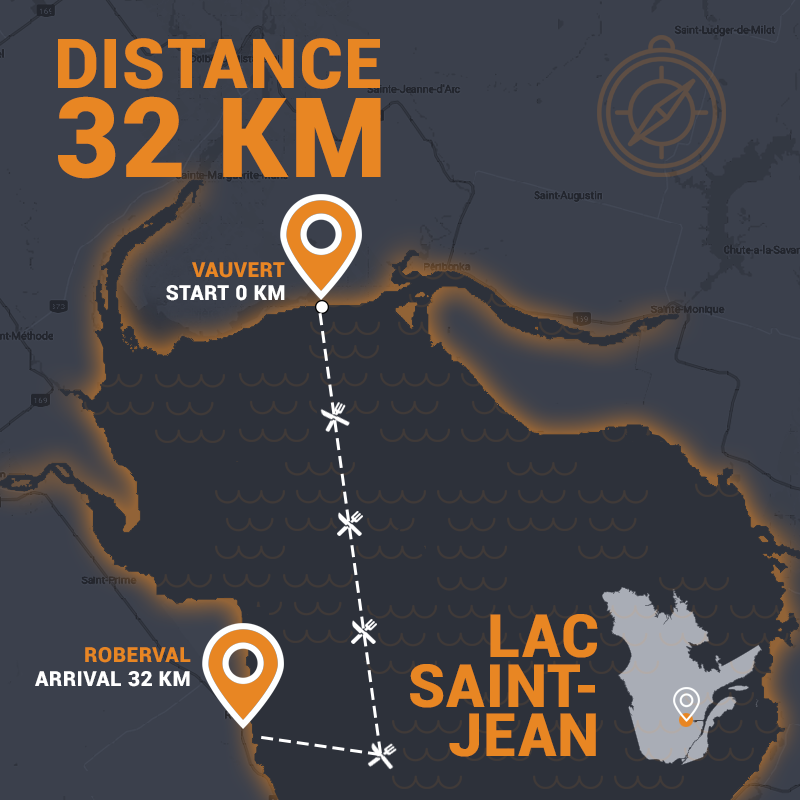 10 km

The 10 km run is ideal for someone wanting an introduction to the event before tackling the classic 32 km Lac Saint-Jean crossing. Participants begin in Roberval and run 5km to Ile aux couleuvres (Garter Snake Island) before turning around and running back to the warmth of the Village on Ice in Roberval.
Date: 22.02.2020
Start time: 6:15 pm